Experience travelling throughout the scenic Hokuriku Area visiting UNESCO World Heritage Sites, Castles and the famous Snow Monkeys of Nagano. Explore Japan like never before with the Hokuriku Golden Arch Tour.


Highlights
1. See the Snow Monkeys of Nagano
2. Cycle the hidden country side
3. View Matsumoto Castle, known as Crow Castle
4. Experience fresh Miso at a Miso Factory


Price From : per person
| | | |
| --- | --- | --- |
|  Departure Date | Twin | Triple |
| Daily | $3,699 | $3,599 |
B: Breakfast | L: Lunch | D: Dinner
Day 1
Narita Airport - Tokyo
Welcome to Japan! For your convenience, after arriving, you'll be met at Narita Airport by an assistant holding a nameboard. You will then transfer via shared shuttle service to your accommodation.
Overnight at Shiba Park Hotel or similar (3 Star Hotel)
Day 2
Tokyo - Nagano (B, L)
After breakfast, use your JR Hokuriku Arch Pass to transfer to Nagano where you will begin a two-day tour starting in Nagano. This tour will begin at JR Nagano station, taking you to see the famous Snow Monkeys that bathe in the natural hot springs in Jigokudani Park. The tour continues with lunch at a nearby restaurant before heading to Zenko-ji Temple, one of the oldest and most important Buddhist temples in Japan. Your guide will take you through the temples complex – explaining its legends and myths – before leading you through a guided sake tasting experience. After indulging in some of Nagano's sake, you will be dropped-off at your hotel.
Overnight at Hotel Metropolitan Nagano or similar (3 Star Hotel)
Day 3
Nagano - Matsumoto - Takayama (B, L)
After an early breakfast, you will be picked up from your hotel and transported to Matsumoto to see its iconic 400-year-old castle. You will be free to explore the castle until it is time for your tour of the Miso Factory. Learn the process of making Miso and the many products made from it. After your tour, enjoy lunch at the Factory. From Matsumoto, you will head towards the Edo like town of Takayama, and the mountain ranges of the Northern Alps. Once arrived in Takayama, your two day tour concludes, and you are free to spend your afternoon and night at your leisure.
Overnight at Hida Hotel Plaza or similar (3 Star Hotel)
Day 4
Takayama (B)
Following breakfast at your hotel, you'll be guided along a Food & Culture Walk through Takayama. This culinary tour will introduce you to the rich culture and history of Takayama. Along the way, meet some of the local food heroes found throughout the many authentic and traditional shops. This morning tour visits: Harada Sake Brewery, Miyakawa Morning Markets, Koji-ya and  coffeehouse. Following this tour, you will have two hours until an afternoon cycling tour led by a trained and experienced guide. This tour will take you away from the tourist spots, visiting natural havens and local markets. You will come away from this tour with a full stomach and fascinating stories to share with family and friends.
Overnight at Hida Hotel Plaza or similar (3 Star Hotel)
Day 5
Takayama - Toyama (B, L)
Have breakfast at your hotel before the Gokayama Ainokura and Shirakawago Sightseeing Bus Tour. Stroll around the Ainokura Village in the World Heritage site Gokayama. Enjoy lunch at Shirakawago with its panoramic views. While in Shirakawago, see over 100 thatched roof houses surrounded by breathtaking scenery. As the tour concludes, transfer from Shirakawago to Toyama via the Nohi Bus service.
Overnight at Hotel Grand Terrace Toyama or similar (3 Star Hotel)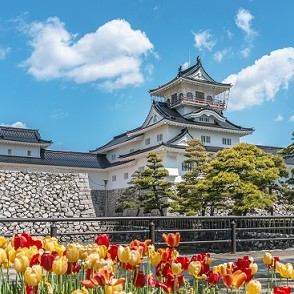 Day 6
Toyama (B, L)
Your luggage will be forwarded ahead to your Day 7 Hotel, so prepare an overnight bag for your last night's stay in Toyama. After breakfast at the Hotel, join a half day tour of Toyama. Start with a sushi lunch with delicious raw fish, then visit Toyama Castle where you will be guided through the castle and a Tea House by an English-speaking Tea Ceremony Instructor. After being taken through the Tea House, continue with a short Tea Ceremony led by your Instructor. After the tour, head back to your hotel and spend the afternoon and night at your leisure.
Overnight at Hotel Grand Terrace Toyama or similar (3 Star Hotel)
Day 7
Toyama - Fukui - Osaka (B)
After breakfast, take the train from Toyama to Fukui Station and spend the day at your leisure exploring Fukui before heading to Osaka. Upon arrival at Fukui Station, purchase a ticket for the Eihei-ji Liner Bus to Eihei-ji Temple, 'The Temple of Eternal Peace'. One of the two head temples of Soto Zen, it is located deep in the mountains near the northwest coast of Japan. This temple was founded by Zen Master Dōgen in 1244. He was offered land and other help for this by Yoshishige Hatano, a samurai who was one of his most devoted lay followers. Dōgen thus founded Eihei-ji, where he devoted himself to training his followers in the perfection of Zen practice. Dōgen Zenji's authentic Zen has been scrupulously observed and passed down by his successors. Today, more than 100 monks devote themselves to his practice of shikantaza (single-minded sitting). Head back to Fukui Station by the Eihei-ji Liner Bus and use your Hokuriku Arch Pass to head to Osaka.
Overnight at Hotel Vischio Osaka or similar (3 Star Hotel)
Day 8
Osaka (B, D)
Spend the day at your leisure until the afternoon when you will participate in an Evening Street Food Tour of Osaka's Shinsekai. Walk around the bustling Shinsekai and explore the downtown streets with an English-speaking guide. Listen to the stories from the guide and try 10 or more local foods and a drink.
Overnight at Hotel Vischio Osaka or similar (3 Star Hotel)
Day 9
Osaka - Kansai Airport (B)
After breakfast, spend the day at your leisure until it is time to make your own way to the airport via airport train for your departure from Japan. Sayonara!
Hotels: Tokyo (1 night), Nagano (1 night), Takayama (2 nights), Toyama (2 nights), Osaka (2 nights)
Meals: 8 Breakfasts, 4 Lunches, 1 Dinner
Guide: English Speaking guide included on day tours only
Transportation:

One Way Tokyo aiport shuttle transfer
One Way Kansai airport train ticket
7 Day Hokuriku Arch Rail Pass
* The above offers are subject to availability and confirmation.
* For full terms and conditions, please contact our travel specialists.
* Costing may vary depending on the exchange rate. The final rate will be confirmed at time of booking confirmation.

More Japan Travel Packages