What exactly are snow monkeys?
The Macaca fuscata, or Japanese snow monkey, is the world's most northernmost living non-human primate. Native to Japan, these monkeys are known for their intelligence, which can be displayed by their affinity to washing food as well as making snowballs. You can find these special creatures bathing in the onsen (hot springs) of Jigokudani Monkey Park, located in the mountains of Nagano.
Departure

From Nagano
26 Nov 2018 - 29 Mar 2019 : Monday, Wednesday, Friday
(except 24, 31 Dec 2018. 2,4,14 Jan. 11 Feb 2019)

Code
JG-GDT1J00241CCS
* Tokyo departure available, additional charge required, more details, please ask consultants.


Jigokudani Wild Monkey Hotsprings and Zenkoji Temple Tour
Jigokudani Yaen-koen is located in Nagano Prefecture (Central Japan) and is known as a very interesting place and is loved by a lot of people in all over the world. At the park, you can see Japanese monkeys relaxing, taking a open-air hot spings in the snow. You can see and take photos of them up close! You will also visit Zenkoji Temple, founded an estimated 1400 years ago. It has long been a popular place of pilgrimage in Japan. You can take the Shinkansen from Tokyo to Nagano. (You can also choose Nagano departure course if you are JR Pass-holders.)
B: Breakfast | L: Lunch | D: Dinner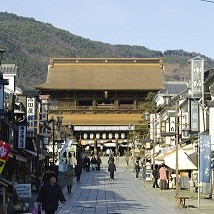 Day 1
Nagano - Zenko-ji - Jigokudani Monkey Park - Nagano
ITINERARY
09:30 Meet up with the guide at Nagano Station
09:40 Depart from Nagano Station
Arrive at Zenko-ji Temple Gate
Zenko-ji Temple (40 min)
One of the fine temples in Japan founded in 642 and worshipped for centuries. Visit the main hall, a majestic wooden structure famous for its huge size and which was founded 1,400 years ago and is a national treasure.

Lunch (40min)
Please enjoy Japanese style lunch, includes soba (buckwheat) noodles a Nagano specialty.

Depart from Zenko-ji Temple to Yudanaka Station (60 min)
Roman Museum Parking (50 min)
Walking  about 40 min to Jigokudani Monkey Park

Jigokudani Yaen-koen (monkey park) (50 min) 
See Japanese snow monkeys unwinding at the hot springs at Jigokudani Monkey Park in Nagano! This spot is internationally renowned as the only place wild monkeys can be seen enjoying hot springs. Seeing the monkeys' humorous behavior up close is sure to bring a smile to each visitor's face.
Roman Museum Parking (50min)
Walking about 40 mins to Kanbayashi Onsenguchi
Depart from Roman Museum Parking
16:00 Arrive at Nagano Station
Lunch
Transportation 
Guiding by a certified tour guide/interpreter
Consumption tax
More Japan Travel Packages