Sake Town Tour in Saijo Hiroshima
from
$238
AUD
View Terms
Monday - Friday *Please ask our consultants about availability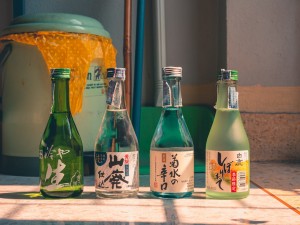 Visit 4-6 local sake breweries to get a sense of the differences, try their sake and other products.
See how a brewery works and get a sense of what goes into production of the world's best sake.
Enjoy a local specialty hot-pot lunch only made in this small, historic town.
Dessert stop with sweets and snacks.
Saijo is a hidden gem for sake fans. The town has eight breweries, seven of which are situated along Sakagura-dori (Sake Brewery Street). On our tour we will take a stroll through the historic streets going from brewery to brewery to enjoy samples of local sake. Saijo breweries are concentrated in such a tight area because of the "shikomi mizu," the water that is essential for producing sake. Hailed as a "miracle water" with a medium hardness suited to sake brewing, it bubbles under the ground of this area in the Saijo district. What's more is that apparently there are subtle differences in the water's components according to a brewery's location. Shikomi mizu is an absolute must for sake. If you want to discover the true taste of sake you must visit Saijo (Hiroshima Prefecture)
B: Breakfast | L: Lunch | D: Dinner
Day 1
Sake Town Tour in Saijo Hiroshima
11:00 am Meet your guide at designated meeting location
Our tour begins with a tasting and sake explanation at Kamotsuru. This sake brewery is representative of Hiroshima sake. Kamotsuru boasts an impressive line up of 12 unique bottles. Visiting this spot first we will see many artifacts and learn about the brewing process. Please note: that the sake brewing process in not available to the public in Japan due to sanitary and health inspection regulations.
After our first brewery visit, we will head off to try a local specialty hot-pot dish made with premium sake, called Bishu Nabe, and other tasting plates made with Saijo ingredients. Learn about the history of this tasty dish at a local lunch spot. (bishu nabe must be ordered in advance so for last minute bookings for the tour we may have an alternate lunch menu.) After lunch, stroll the picturesque streets and go brewery hoping. Tasting rooms are each unique and you can sample many kinds of sake and sake based products.  Visit a local cafe and enjoy sweets and a snack break inspired by Japanese rice wine. At each brewery will sit be able to sample different kinds of sake. If you find a type you like, the brewery shops carry a huge variety for you to purchase and take home.
14:00 pm Tour concludes
3 hour tour of Saijo district in Hiroshima with local guide
Visit 4-6 local sake breweries
A local specialty hot-pot lunch only made in this small, historic town.
Dessert stop with sweets and snacks.
Please note that there may be other participants.
You do not need to pay for the guide's food and drinks.
Anyone over 20 years old can join this tour (Only persons over 20 years of age can drink alcohol because of law in Japan).
Cannot make an allergy free or dietary restriction food guarantee since food is prepared in kitchens.
This tour could possibly visit the place where smoking is not prohibited. please note that we may not be able to change the tour in this case.
Out of respect for our other guests and to ensure the best tour for everyone, we must start the tour on time. You will not be able to join the tour, get refund or rescheduled if you are late for the tour and missed the group.
Changes to tours and spots we visit may occur due to schedules, public holidays, weather conditions and other unforeseen circumstances. Applicable substitutions will be made in this case.
More Japan Travel Packages