This private guided walking tour is designed for visitors who wish to immerse themselves in the heritage and secrets of Arita!
Arita ware traces its history to the beginning of the Edo period (1603–1867) when the Korean potter Yi Sam-pyeong discovered valuable porcelain clay at Izumiyama. Arita ware soon became highly valued, not only in Japan but also in Europe. Early types of Arita ware were known for a distinctive decoration called 'sometsuke' (underglaze blue). Later, bright-colored overglaze and even specific styles emerged.
This is a valuable chance to learn about the various styles and distinctive characteristics of one of the world's finest types of porcelain.
B: Breakfast | L: Lunch | D: Dinner
Day 1
Arita, Saga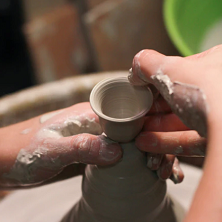 10:00 am: Meet your guide at Arita station.
Kyushu Ceramic Museum: The museum features ceramics from all regions in Kyushu  as well as pieces from Europe that reveal this island's influence. Founded in 1980, the museum's goal is to promote and preserve this important aspect of Kyushu's culture and history.
Izumiyama Quarry: Discovered by the father of Arita ware Yi Sampyeong (Sanbee Kanagae), with production starting in 1616. The clay was used for Japan's first high-quality porcelain, Arita ware and Nabeshima ware, at kilns in nearby Okawachiyama and Arita. A knowledgeable local guide will introduce you to Arita's historical district of Uchiyama, where you can see the traces of 400 years of porcelain-making at Izumiyama Quarry and the Tonbai Walls.
Lunch: Enjoy lunch at Arita Porcelain Lab.
Imaemon Kiln: You'll visit craft studios and kilns that are not typically open to the public, including Imaemon Kiln, of which the 13th-generation Imaemon and the current head — the 14th-generation Imaemon — have been designated as Living National Treasures. Familiarize yourself with Arita's history and porcelain-making traditions.
15:00 pm: Private pottery Lesson with 14th-generation descendant from Yi Sam-pyeong (Sanbee Kanagae) at Akaeza Studio. Learn about the distinguishing features of Arita porcelain from different periods in history. Immerse yourself in Arita's rich heritage.
16:15 pm-: Tour ends at Arita station. Please make your own way to your next destination.
English speaking guide
Lunch
Pottery lesson (60 min)
Admission fees and transportation costs included in the tour
Anyone over 6 years old can join this tour.
Maximum 4 people
The itinerary (tour completion time, visiting schedule, & others) may be changed due to heavy traffic, weather conditions, or other operational reasons.
If you are not able to arrive at the meeting point by the departure time, the tour will start regardless and no refund will be provided.
If you wish to keep your work from the pottery lesson, extra fee will be required (pay on spot) and shipping will take around 2 months. Please check details with shop staff.
More Japan Travel Packages